Side parted short bob wet hair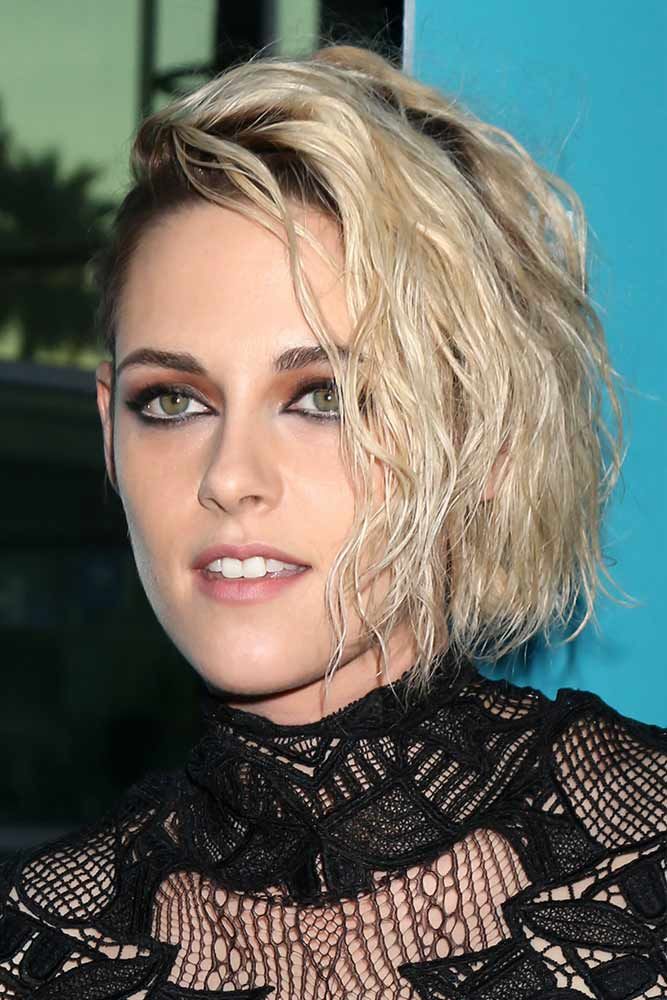 Source: Kathy Hutchins / Shutterstock
Kristen Stewart loves to jump from one extreme to the other while playing with her hair. But there's something she can't resist, no matter what length or cut she's wearing. For her short bob, the actress styles her hair to the side and lets the wet curls flow gently and naturally. This gives a fairly striking effect, especially when paired with dramatic smoky eyes.
Tutorial for wet hair
There is a great universal way for you to make wet hair look simple and, above all, professional. You just need to have the right styling arsenal and follow the steps below.
Credit video: youtube.com/Milabu
What you will need:
non-sticky, shiny, wet hair gels
Glossy spray
Hairspray
a hairbrush
How one:
Step 1. Damp hair. No, it shouldn't be wet, even if it contradicts the general image of the style. It must be emptied so that the hair gels can be evenly distributed in the wet appearance without becoming sticky. So remember to always start with damp hair.
Step 2. Use a lot of gel. When it comes to applying a product with a wet hair look, you should be quite generous not only to your roots, but also to the rest of the hair.
This is actually the case if the more gel you apply, the more moist your appearance will be. In fact, it depends on how intense the look should be. Even so, you should distribute a large amount of the product in your hair, starting with the roots.
Step 3. Comb it back. A fine tooth comb is a must for classic wet look hair. Bristles affect the look of your hair. Boar bristle brushes, for example, work well for sculpted looks, while soft bristles are designed for a smooth, polished finish. Brush your hair back, spread the generous amount of gel evenly over your hair and avoid bumps.
Step 4. Spray with gloss spray. It just so happens that roots are often more shiny and gelled than the other curls. And this is where gloss sprays come into play. Spray a glossy product on your locks, but not on the roots, to achieve a smooth blend with them.
Step 5. Coat it with a long-lasting finish. As with any other hairstyle, wet hairstyles cannot do without hair sprays. However, this time it should be a product that offers a strong hold and an improvement in gloss. This step is not only the easiest but also the most important as it keeps your hairstyle under control and in place all day or all night. Coat your hair with shiny hairspray before the gel dries to forget countless touchups.
When we look at these long-legged models with smoky makeup and shiny wet hairstyles, we think these ideas are only for runway shows. What a shame! Today you saw with your own eyes that even a novice in the world of hairstyles can copy one of these ideas. Now that you've learned the steps of how to make your hair look wet, there's nothing stopping you from stealing a look from your favorite star!